Yachtregistrierung in San Marino
San Marino ist seit 2002 Mitgliedsstaat der IMO und hat 2021 ein neues Schiffsregister eingeführt, das eine schnelle und effiziente Registrierung in Europa gewährleistet. Die Flaggenregistrierung für Privatyachten ist 5 Jahre gültig und das Verfahren dauert nur 2 Werktage.
San Marino ist eine renommierte Flagge, die auf der ganzen Welt gültig ist und eine hoch bewertete IMO-Flagge ist. San Marino hat eine eigene Delegation bei der IMO und Vertretungen in mehreren Ländern.
Da San Marino in Europa liegt, aber nicht zur EU gehört, ist es ideal für Schiffe, die das Mittelmeer befahren.
Extrem beliebte Yachtregistrierung
Die Yachtregistrierung in San Marino ist aufgrund ihres schnellen Registrierungsprozesses und der geringen Kosten eine äußerst beliebte Yachtregistrierung. Dies, gepaart mit einer prestigeträchtigen Flagge wie der von San Marino, wird sicherlich eine beliebte Möglichkeit für Bootsbesitzer auf der ganzen Welt sein.
Da es hoch angesehen ist, erspart es Ihnen viel Bürokratie und Bürokratie beim Betreten einer neuen Marina / eines neuen Landes.
Vorteile der Yachtregistrierung in San Marino
Fertig innerhalb von nur zwei Werktagen
Das gesamte Verfahren kann online durchgeführt werden
Gültig für 5 Jahre
Originale müssen nicht per Kurier verschickt werden
Verfügbar für jede Nationalität
Klare und einfache Gesetzgebung
Für private Yachten unter 24 Metern ist keine Yachtinspektion erforderlich
Keine Bürokratie
Auch für kommerzielle Yachten geeignet
Niedrige Registrierungskosten
Geeignet für die Vermietung einer privaten Yacht
Kompetenter Kundenservice
Bekannte europäische Zulassung
Pariser MoU Whitelist
Gültig in jedem Land der Welt
Vereinbarungen mit großen technischen Organisationen, die von der IMO anerkannt sind
Einschließlich AIS- und MMSI-Funklizenz
Keine Einschränkungen der Nationalitäten von Eignern und Crew
Wie funktioniert es?
Benötigen Sie eine Yachtregistrierung in San Marino? Yacht Registration Holland bedient Kunden aus der ganzen Welt. Unser Registrierungsservice deckt den gesamten Registrierungsprozess in englischer Sprache ab.
Sie müssen nur ein paar einfache Schritte in unserem Online-Registrierungsprozess befolgen. Wenn wir die erforderlichen Unterlagen erhalten haben, erstellen wir für Sie das vollständige Dossier zur Beantragung der San Marino-Yachtregistrierung. Nach Abschluss laden wir alle Registrierungsunterlagen in Ihr Online-Registrierungsportal zur sofortigen Nutzung hoch.
Online-Registrierungsprozess
Die Beantragung einer San Marino-Yachtregistrierung bei uns ist ganz einfach! Sie können Ihre Yachtregistrierung ganz einfach online beantragen. Das folgende Video erklärt kurz, wie das funktioniert. Weitere Informationen finden Sie auf der Seite "Online-Registrierungsportal".
Direkte Registrierung für EU- und Nicht-EU-Passinhaber
Das Yachtregister von San Marino ist ein Yachtregister, das für alle Nationalitäten verfügbar ist. Darüber hinaus können Sie Ihre Yacht privat oder gewerblich anmelden.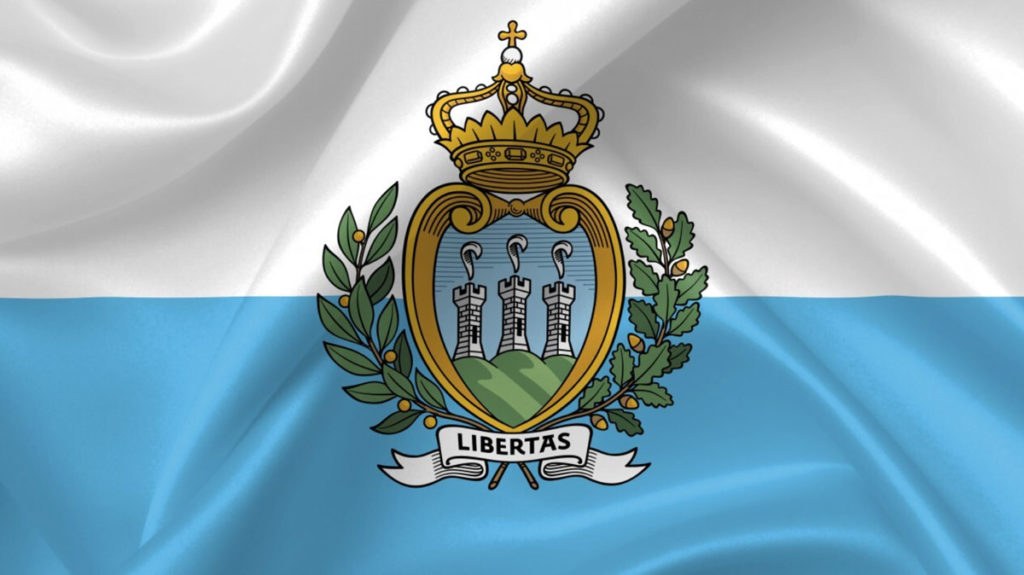 Wenn Ihre Yacht derzeit einer Firma gehört, können Sie diese Firma verwenden, um Ihre Yacht zu registrieren. Haben Sie noch keine Firma und möchten Sie, dass Ihr Boot einer Firma gehört? Yacht Registration Holland hilft Ihnen, ein Unternehmen in Gibraltar, Großbritannien, Panama oder Irland zu gründen.
WICHTIG:
Als Nicht-Einwohner von San Marino müssen Sie einen ortsansässigen Vertreter als Ihren örtlichen Vertreter haben. Wir arrangieren dies für Sie. Damit erhalten Sie einen offiziell registrierten Vertreter in San Marino für nur 100 € pro Jahr (500 € für die 5-Jahres-Registrierung Ihrer Lizenz). Die Entschädigung ist für private oder firmeneigene Schiffe gleich.
Wie lange dauert es, eine Yachtregistrierung in San Marino zu erhalten?
Der Vorteil der San Marino Yacht Registrierung ist, dass Sie die Registrierung innerhalb von zwei Werktagen erhalten. Dies bedeutet, dass Sie die San Marino Yacht Registration sofort nutzen können und es zum schnellsten Verfahren der Welt macht!
Wie viel kostet eine Yachtregistrierung in San Marino?
Der Preis richtet sich nach der Bootslänge:
Yachten bis 10,00 Meter 525,- Euro
Yachten von 10,00 Meter bis 24,00 Meter € 1600,-
Zusätzliche Kosten:
Lokal ansässiger Agent € 100,- pro Jahr / € 500,- für 5 Jahre
Unsere Bearbeitungs- und Verwaltungskosten betragen € 250,-
Die zusätzlichen Kosten gelten für einen ortsansässigen Agenten und unsere Bearbeitungs- und Verwaltungskosten, die Folgendes umfassen:
San Marino vorläufiges Yachtregistrierungszertifikat
San Marino Yachtregistrierungszertifikat
Offizielle San Marino AIS & MMSI Funklizenz (Option für Yachten <10 Meter Länge)
San Marino Yacht Safety Certificate (Option für Yachten <10 Meter Länge)
San Marino Resident Agent für 5 Jahre
Alle Steuern und Gebühren von San Marino
Unsere Abwicklung & Kosten
Um Ihre Yacht erfolgreich in San Marino zu registrieren, benötigen wir:
Farbscan-Kopie Ihres Reisepasses oder Personalausweises
Firmendokumente, wenn die Yacht einem Unternehmen gehört (nicht älter als 6 Monate)
Kaufvertrag oder Erbauerzertifikat (notariell beglaubigt, wenn die Yacht weniger als 10 Meter lang ist)
Vollmacht (wir stellen Ihnen diese zur Verfügung)
Nachweis der Löschung des vorherigen Registers (falls zutreffend)
Früheres internationales Tonnage-Zertifikat (falls verfügbar)
Ausgefüllte Antragsformulare (wir stellen Ihnen diese zur Verfügung)
Kopie Ihrer Yachtversicherungspolice (für Yachten über 24 Meter)
Wenn die Yacht älter als 20 Jahre ist, müssen Sie zuerst eine Vorab-Inspektion mit einem Sachverständigen aus der zugelassenen Liste vereinbaren. Anschließend können Sie den Umfragebericht per E-Mail an uns senden.
Welche Vermessungs- und Klassifizierungsunternehmen sind von den Behörden von San Marino zugelassen?
Rina, Bureau Veritas, Lloyd's, Turkish Lloyd, DNV und das American Bureau of Shipping sind von den nautischen Behörden von San Marino autorisiert, die Schiffe in ihrem Namen zu inspizieren. Es ist auch möglich, von San Marino autorisierte Vermessungsingenieure in Anspruch zu nehmen.
Alle Dokumente müssen in englischer oder italienischer Sprache vorliegen oder eine formelle Übersetzung muss vorgelegt werden.
Bill-of-Sale-Generator-Tool
Wir haben ein kostenloses Bill of Sale Generator-Tool zur Verfügung. Dieses Tool hilft Ihnen, einen neuen Kaufvertrag für Ihre Yacht zu erstellen. Nach Vervollständigung der Daten können Sie diese absenden. Wir prüfen dann kostenlos alle gemachten Angaben. Nach der Genehmigung erstellen wir den neuen Kaufvertrag und teilen Ihnen mit, wie Sie ihn herunterladen können.
Vertrauenswürdiges Unternehmen mit verifizierten Referenzen